Industrial Design
---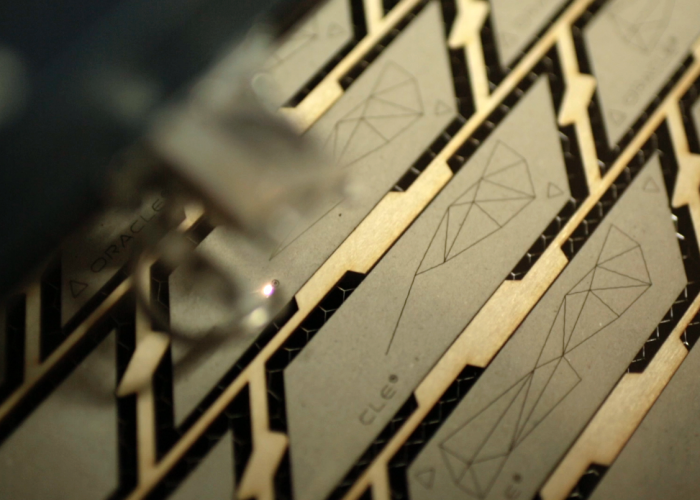 Oracle: The Voice of Data
We built the Voice of Data for Oracle's OpenWorld event. Like other projects that we've done in the past, The Voice of Data makes it possible to create something beautiful and unique using non-traditional tools – democratizing design and exploring the implications for the creative process in an era where mass production and mass customization are meeting.
Using custom code and an on-site laser cutter, we transformed the human voice into wearable art. Visitors recorded their voiceprints using an iOS app we created for the event. One even proposed (probably still need a ring). Our generative code then transformed each voice into a unique design, which was cut into leather by a pair of lasers generously supplied by Universal Laser Systems. We made more than 1,500 different bracelets over the course of the event.
Creative Director: … Read More »
---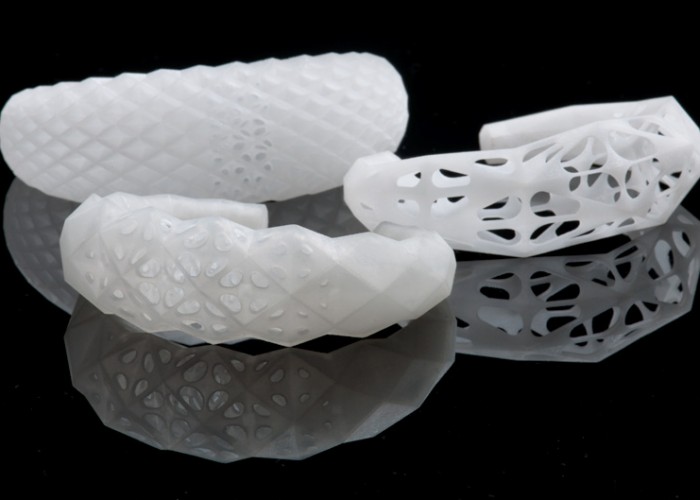 Nu: A bracelet created by sound.
Nu transforms music into a unique piece of wearable art.
Nu uses sophisticated audio analysis, generative 3D code, and 3D printing to understand the fundamental musical elements of a song, and then use those elements to define the structure of a physical object: every song leads to a completely unique form.
Nu represents not just a new type of jewellery, but a new way for musicians to connect and communicate with their audience.
Nu also represents a new approach to design and manufacturing – a way for artists create through code, and an approach that enables both mass production and mass customization.
Nu's custom fabrication code uses six pieces of musical data:
The BPM of the song determines the overall complexity of the folding pattern.
Beat emphasis determines the ratio of folding from left to right.
Syncopation determines the ratio … Read More »
---